iBIMS® CHINESE NAMING COMPETITION RESULTS ANNOUNCEMENT iBIMS® 中文命名有獎大賽結果公佈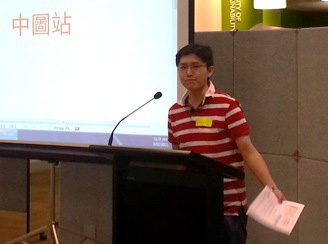 In mid-December 2012, iBIMS together with Willoughby City Library and Rockdale City Library launched the iBIMS Chinese Naming Competition. The submission of entry closed on the 18th of January 2013. The number of contestants is overwhelming, they came from 10 different libraries, including Rockdale, Hurstville, Parramatta, Blacktown, Stanton, Lane Cove, Hornsby, Warringah, Willoughby and Chatswood Library. More than 120 Chinese name entries were received. After rounds of discussion, the judging panel finally came to an agreement. Due to the intense competition, one more prize is added to each of the 2nd and 3rd Prizes. The runners up each won an A$100 book voucher. Two of the contestants had won the 2nd prize for the same Chinese name entry. Their prize will be equally split with each receiving A$50 book voucher. 1st Prize winner Choy Kam Yuen with his name entry "中圖站" eventually emerged from the crowd. Its meaning is construed as "Chinese Books Station", or homophonic "Midway Station", a journey to find and read. It is also in line with iBIMS's role in the library. This name has won him the A$500 book voucher.
"中圖站" will officially become the Chinese name of iBIMS Online Public Access Catalogue which will endeavour to bring advance technology to the forefront for our Chinese readers.
在2012年12月中,iBIMS聯同威樂比圖書館及樂調市圖書館,舉辦一個為期一個月的征名比賽。這個比賽在2013年1月18日結束。參加人數非常踴躍,參賽者來自10個不同的圖書館,包括 Rockdale, Hurstville, Parramatta, Blacktown, Stanton, Lane Cove, Hornsby, Warringah, Willoughby and Chatswood Library,大會共收到超過120個參賽中文名稱,經過多番討論,終於得出結果,由於賽情激烈,評判團最終同意添加亞軍及季軍各一名。亞軍及季軍得獎者均獲得100澳元書劵,其中兩位亞軍得獎者因所遞交參賽的中文名稱一致,故獎品將平均分配,各得50澳元書劵。冠軍得主蔡鑫源 Choy Kam Yuen,參選的中文名稱"中圖站"最終勝出,其意思解作中文圖書站,或諧音"中途站",一個尋找及閱讀的旅程,亦符合iBIMS 在圖書館所扮演的角色,這名稱為他贏得了500澳元的書劵。
"中圖站"將正式成為iBIMS中文圖書電子目錄的中文名稱,日後肯定會繼續為廣大讀者帶來更多、更先進的服務。
Below is the list of winners and finalists:
優勝者及入圍者的名單如下:
1st Prize (冠軍) 蔡鑫源 (Choy Kam Yuen)

2nd Prize (亞軍) Cao Zhong
黎洛彤 (Lai Log Tung) / 白玲誼 (Pai Lin I)

3rd Prize (季軍) Fu Siu-wan
Michael Leong
Finalists (display according to time of entry forms being received):
入圍者 (排名根據收到報名表格的時間順序顯示):
邴巨昆 (Bing Jukun)
伍偉華 (Raymond Ng)
Letty Chan
Steve Ngeow
盧頌欣 (Irene Lo)
Poon Kit Man
Yvonne Lee
Wu Dong Mei
田瑋東 (Tian Weidong)
Xia Feifei
Daisy Leung
蕭珊珊 (Susanna Siu)
謝麗芬 (Tse Lai Fan)
Wang Yan
黃麗顏 (Wong Li Yan)
程莉華 (Cheng Lihua)
Cai Yanwen
邢棟 (Xing Dong)
竺芝冰 (Zhu Zhibing)
林陳麗文 (Ella Lin)
喬魯蒙 (Joelmon Zungar)
Cindy Jiao
呂玉玲 (Lui Yuk Ling)
黃棧成 (Oliver Wong)
鄭敏之 (Zheng Minzhi)
范瑜 (Fan Yu)
Hu Wenfeng
孫建芳 (Sun Jianfang)